Feb. 15 & 16, Old Skinner Hollow Farm, Rt. 7A, Manchester, svtpb.org.
About the Southern Vermont
Primitive Biathlon
Event site opens at 8:30 AM and shooting competitions will be held between 9:00 AM and 3:00 PM on Saturday and 9:00 AM and 2:00 PM on Sunday.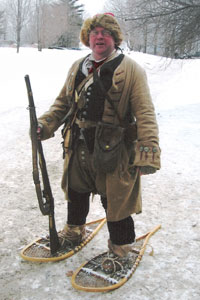 The Southern Vermont Primitive Biathlon is a Winter Shoot that combines physical endurance with marksmanship. Unlike modern Olympic biathlons – in which the participants use cross-country skis and high tech rifles – the "primitive" competitor travels on wooden snowshoes and fires at targets using black powder riles or muskets.
The Southern Vermont Primitive Biathlon is open to all muzzleloading firearm enthusiasts, regardless of their skill level or athletic ability. As a tribute to America's beginnings, many participants dress in period attire representing Colonial Frontiersmen, Native Americans, and Early Militia. Spectators are welcome at no charge. There will be a food concession stand with many warm delicious lunch choices. Check out our web sight for more details, tons of pictures, and results from past events.